AC Drive Manufacturer
AC Motor vs DC Motors
I do a lot of electrical MCC and PLC designs for wood mills and mines, and we usually always use 600V AC premium efficiency motors. My boss came up to me today and he was apparently told that he should switch out his AC fan motor for his home furnace out to DC, because the current consumption would be 1/3 with the DC motor. So my boss then comes to ask me why won't we use DC motors in an industrial setting instead of all these AC motors?
I've never done motor designs for DC motors. Where is the rectifier located if you're used to having a 600V MCC? Can you get a DC motor MCC bucket? Most of all, I am trying to figure out how it's possible that the DC motor can only draw 1/3 of the HP when compared to the AC motor. Now, I was told that the DC motor and AC motor for the furnace fan in question was of the same HP. So, if that's the case, they are of the same wattage, meaning if the ac and dc voltages are the same, the current HAS to be the same.
I am concerned with the current consumption on the AC side. Right now, we have MCC's that are fed from breakers in the 600V distribution center. Assuming there would be a rectifier at the individual motor bucket level, would the current consumption on the line sine of that bucket be higher or lower if a DC motor was doing the work that the existing AC motor is doing?
Also, why don't we use DC motors more in industrial settings (or am I just isolated and they are in fact super common)? Are brushless pretty much the norm now for DC motors?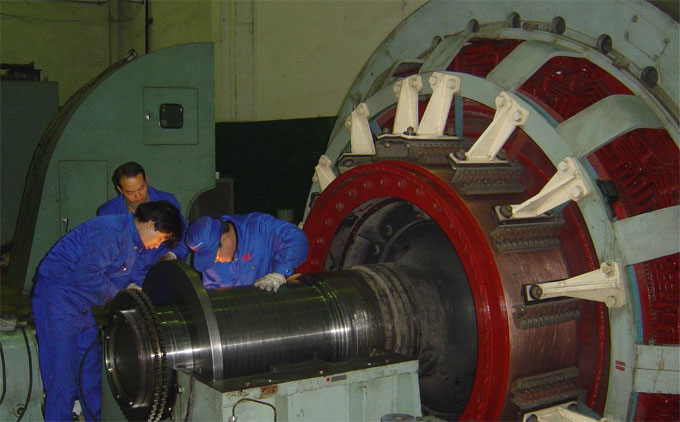 There are a lot more to it than just switching to DC.
The only reason for the possible power saving will be to let the fan run at reduced speed. As a main rule of thumb the power required for a fan is proportional to the speed to the power of three. So in order to reduce the power to a third, the speed shall be reduced by around 30% to near 70% of the original speed.
That can just as easily (and cheaply) be done by installing a slower (and smaller) motor, or by installing some
AC drives
. Remember, the standard induction motors have long been preferred because of their simplicity, and minimal maintenance requirements. No brushes and the like, that wears out over time as in DC motors.
Installing DC motors in any industrial application is (were) only done if there are very special requirements to starting torque or speed control. It is definitely not quite as simple as just changing some MCC drawer. There is no why a DC motor will draw less power than your standard induction motor for the same application.